People like to feel part of a group. Thanks to the Friends of feature, they can share their achievements and get extra encouragement from their efforts. For the developer, the best thing about this is that players come to your game at zero cost.
Social Features: The Effects
Players love competition, and Friends of feature help create a sense of rivalry. This list includes the familiar leaderboards, comparing results and inviting friends to the game. Social features in mobile games motivate the player to stay active. Especially if the use of these features brings them a reward.
The use of social features allows the player to find his community of like-minded people. The opportunity to share with someone the joy of achievements or to compete creates a positive image of the game. Players invite other players to join the game, share their achievements on social networks.
Typically, in-game communities are made up of players with a shared view of play style. Which simplifies the task of collecting application statistics and gives more clear information about the improvement of the application.
All this should have a positive effect on user retention and game revenue.
After all, social features have an impact on increasing the competitiveness of the application.
Top Social Features
Let's move on to what Friends of feature have already proven their usefulness. They can be conditionally divided into two large groups:
Social elements that are part of the gameplay. For example, shared tasks, PvP gameplay, guilds, etc.
Social experiences that occur outside of the main gameplay. Such features include living rooms for group communication.
Let's consider the examples of Friends of feature, which are most often used in mobile games.
Send and Ask for Help
If the player is stuck in the game and he does not have enough resources, he does not always go to the store. Here the opportunity to ask for help from friends comes to his aid. Usually, in games according to this scheme, you can get:
In-game currency
Energy/lives
Army units
Items or characters
In our games Riverside Merge and Merge Villa, the player often experiences a lack of energy. He can send a request to his friends and, after receiving help, continue the game. This feature allows you to make sending aid part of a unique monetization strategy.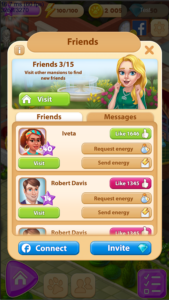 Leaderboards
Leaderboards are ranking systems that rank players based on their in-game achievements. They reinforce a sense of excitement among players and give them a sense of pride in their achievements.In the game Riverside Merge, we use leaderboards in various competitions: Train Tournament, Weekend Tournament, etc. Players can clearly see the results of their efforts, which has a positive impact on retention metrics.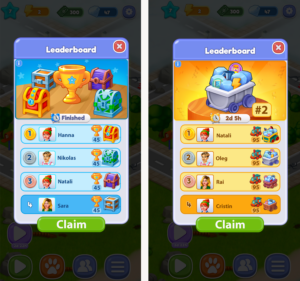 In-Game Chat
In-game chats are platforms that allow players to communicate within the game via real-time text messages. Thanks to them, new players have the opportunity to find friends or ask for useful information. Hardcore players can use it to share strategies and coordinate with other players.
Social Media Connection
By connecting to social networks through Facebook, Google, or Apple, players can track their friends' progress, invite friends to the game, share in-game content, and more. This works as additional free
advertising and brings in new players who want to experience the benefits of the game for themselves.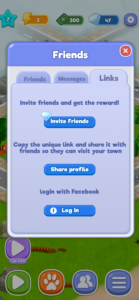 Co-Op Modes
A good example of the Friends of feature is the ability for players to perform actions together. Cooperative mode can be of two types – competitive and non-competitive.Competitions are any tasks and battles in which a player participates together with friends or random players against another team of players. For example, guild wars, real-time matches, and others.Non-competitive modes consist of missions or tasks that players complete as part of a team. For example, quests or in-game tasks. A team can consist of friends or random players.
PvP modes
Battles between players are an exciting type of social interaction that has a very good effect on player retention. Depending on the game type, PvP matches can be synchronous or asynchronous. They can happen in real time or sequentially. The results of interactions are displayed in the leaderboard.This is far from the entire list of social features, but definitely the most popular in casual games. Social networking benefits players and developers alike. Thanks to them, a community is formed in the game, which loyally supports the project and promotes its distribution.
author Vaclav Yeager